Tuition Fees Comedy Review Players
EduBusiness, HE, In The News, Politics, Tuition Fees
Monday, November 9th, 2009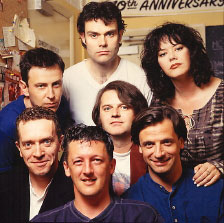 John Browne was born in 1948. He joined BP in 1966 as a university apprentice. He holds a degree in Physics from Cambridge University and a MS Business from Stanford University, California. He is President of the Royal Academy of Engineering, and a Fellow of the Royal Society and The American Academy of Arts and Sciences. He has numerous honorary degrees, fellowships and awards.

He joined the Board of BP in 1992 and became its Group Chief Executive in 1995 until 2007. He has been the Chairman of the Advisory Board of Apax Partners LLC (2006-7), non-executive director of Intel (1997-2006), DaimlerChrysler AG (1996-2001), Goldman Sachs (1997-2007) and SmithKline Beecham (1996-1999). He was voted Most Admired CEO by Management Today from 1999 -2002. He was knighted in 1998 and made a life peer in 2001.

He is presently a Managing Director of Riverstone Holdings LLC, a company which invests in renewable and conventional energy. He is Chairman of the Board of Trustees of Tate, President of the Royal Academy of Engineering, Chairman of the advisory Board of the Cambridge Judge Business School, and a member of a variety of advisory boards.
Sir Michael Barber is head of McKinsey's Global Education Practice and Founder of the Education Delivery Institute in Washington, D.C. which advises governments in the US on implementation of reform in higher education and school systems. He works on major challenges of performance, organisation and reform in government and the public services, especially education, around the world. He is co-author of the widely-read international benchmarking study "How the World's Best Performing School Systems Come Out on Top."

Prior to joining McKinsey he was (from 2001) Chief Adviser on Delivery to the British Prime Minister, Tony Blair. As Head of the Prime Minister's Delivery Unit he was responsible for the oversight of implementation of the Prime Minister's priority programmes in health, education, transport, policing, the criminal justice system and asylum/immigration.

The approach to delivery he developed is widely seen as constructive and innovative. His book about this experience – Instruction to Deliver: Fighting to Reform Britain's Public Services (Methuen 2008) – was described by the Financial Times as "one of the best books about British Government for many years."

Between 1997 and 2001, he was Chief Adviser to the Secretary of State for Education on School Standards. Prior to joining government he was a Professor at the Institute of Education, University of London.

His other major publications include The Learning Game: Arguments for an Education Revolution (Indigo 1997), The Virtue of Accountability (Boston University 2005) and Impossible & Necessary: Are You Ready for This (Nesta, July 2009).

His advice on public policy, especially education, has been sought by governments in over 30 countries including the USA, Chile, the Netherlands, Russia, Singapore and Australia and by major international organisations including the OECD, The World Bank and the IMF. He is an Honorary Doctor at the Universities of Exeter, Nottingham Trent and Wolverhampton and a Visiting Professor at the Higher School of Economics in Moscow.
Diane Coyle runs the consultancy Enlightenment Economics. She is a BBC Trustee and member of the Migration Advisory Committee, and was for eight years a member of the Competition Commission (until September 2009). She is also visiting professor at the University of Manchester.

She specialises in competition analysis and the economics of new technologies and globalisation, including extensive work on the impacts of mobile telephony in developing countries.

Diane is also a member of the advisory board of ING Direct UK and of the stakeholder advisory panel of EDF Energy, and a member of the advisory council of the think tank Demos.

She is the author of several books, including The Soulful Science (Princeton University Press 2007), Sex, Drugs and Economics (2002, Texere), Paradoxes of Prosperity (2001, Texere), Governing the World Economy (2000, Polity) and The Weightless World (1997, Capstone/MIT Press), all translated into many languages. She has also published numerous book chapters, reports and articles, and was formerly a regular presenter on BBC Radio 4's Analysis. She is currently working on a new book to be published by Princeton University Press in 2010.

She was previously Economics Editor of The Independent and before that worked at the Treasury and in the private sector as an economist. She has a PhD from Harvard.

Diane was awarded the OBE in January 2009.
Professor Eastwood became Vice-Chancellor of the University of Birmingham in April 2009. He was previously Chief Executive at the Higher Education Funding Council for England (HEFCE), a post he had held since September 2006. Former posts include Vice-Chancellor at the University of East Anglia, and Chief Executive of the Arts and Humanities Research Board.

Professor Eastwood held a chair in Modern History at the University of Wales, Swansea, where he was also a Head of Department, Dean, and Pro-Vice-Chancellor. Whilst at Swansea he co-founded the National Centre for Public Policy.

He was Fellow and Senior Tutor of Pembroke College (1988–1995) and is now an Honorary Fellow of both St Peter's College, Oxford, from where he graduated in 1980, and Keble College, Oxford, where he was a Research Fellow from 1983 to 1987.

Professor Eastwood has served on numerous national bodies and committees, including membership of the Research Support Libraries Group 2002-03, the Roberts Review of the Research Assessment Exercise, the Tomlinson Group on 14-19 Education 2003-04, the Advisory Board of the Higher Education Policy Institute, the Councils of the John Innes Centre and the Sainsbury Laboratory, and the Board of the Quality Assurance Agency. He has chaired the 1994 Group of Universities, UUK's Longer Term Strategy Group, and the Association of the Universities of the East of England. He also chaired the Westminster Education Commission in 2009.

He is currently Chair of Supporting Professionalism in Admissions (SPA), a Director of Universities Superannuation Scheme (USS), a Board member of Universities UK (UUK) and Universities and Colleges Admissions Service (UCAS). He is also a member of the Advisory Board of the Higher Education Policy Institute, and Commissioner and Deputy Chair for the Marshall Aid Commemoration Committee.

Since 1991 Professor Eastwood has been a Fellow of the Royal Historical Society, serving as its Literary Director 1994–2000 and as Chair of its Studies in History Board 2000–04.

Professor Eastwood is married with three children. He enjoys music, politics, walking, sport and good wine; and includes writing on football amongst his extensive list of publications.
After sixteen years as an academic researcher and university lecturer at Cambridge and Nottingham universities, Julia King joined Rolls-Royce plc in 1994. At Rolls-Royce she held a number of senior executive appointments, including Director of Advanced Engineering for the Industrial Power Group, Managing Director of the Fan Systems Business, and Engineering Director for the Marine Business. In 2002 Julia became Chief Executive of the Institute of Physics, and in 2004 she returned to academia as Principal of the Engineering Faculty at Imperial College, London. In December 2006 she became Vice-Chancellor of Aston University.

Throughout her career Julia has held a number of senior public appointments and has continued to support universities and voluntary bodies in various roles. She works closely with Government as a member of the Management Board of the Department for Business Innovation & Skills, the Committee on Climate Change, and the National Security Forum. She spent four years advising the Ministry of Defence as Chair of the Defence Scientific Advisory Council, and five years as a non-executive member of the Technology Strategy Board. She is a member of the Governing Board of the European Institute of Innovation and Technology and of the World Economic Forum Global Agenda Council on the Future of Transportation. She led a Royal Academy of Engineering Working Party on 'Educating Engineers for the 21st Century' which published its final report in June 2007, and plays an active role in encouraging women and young people to go into science and engineering-based careers.

Julia was appointed by the Chancellor of the Exchequer in March 2007 to lead the 'King Review' to examine the vehicle and fuel technologies that, over the next 25 years, could help to reduce carbon emissions from road transport. The interim analytical report was published in October 2007, and the final recommendations in March 2008.

Julia has published over 160 papers on fatigue and fracture in structural materials and developments in aerospace and marine propulsion technology. Her research has been recognised through the award of the Grunfeld, Bengough and Kelvin medals. In 1997 she was elected to Fellowship of the Royal Academy of Engineering and was made a CBE for 'Services to Materials Engineering' in July 1999. She is a Liveryman of the Goldsmiths' Company, an Honorary Graduate of Queen Mary, London, and an Honorary Fellow of Murray Edwards College, Cambridge, and of Cardiff University.
Peter Sands joined the Board of Standard Chartered PLC as Group Finance Director on 14 May 2002 and was appointed as Group Chief Executive on 20 November 2006. Before his appointment as Group Chief Executive he was responsible for Finance, Strategy, Risk and Technology and Operations. Prior to this, Peter was a Director with worldwide consultants McKinsey & Co.

Peter had been with McKinsey since 1988 where he worked extensively in the banking and technology sectors in a wide range of international markets. He was elected a partner of McKinsey in 1996 and became a Director in 2000.

Prior to joining McKinsey, Peter worked for the United Kingdom's Foreign and Commonwealth Office.

Peter graduated from Oxford University and holds a Masters in Public Administration from Harvard University, where he was a Harkness Fellow.
Rajay Naik is a UK Board Member of the Big Lottery Fund (BIG) – the largest National Lottery grants distributor which has allocated £2.5 billion to people and communities most in need since 2004. He is also a Commissioner of the Standing Commission on Carers – launched by the Prime Minister in 2007 to advise Ministers on supporting the United Kingdom's six million carers and implementing the National Strategy.

Rajay is a renowned expert on policy and programs relating to young people currently supporting their engagement within local government. He previously worked on policy at the Office of the Third Sector and at the Royal Society of Arts, where he managed the Coffeehouse Challenge. Rajay is a former Chair of the BYC, and Trustee of the National Youth Agency and the national volunteering organisation, v. He was also a Council Member of the Learning and Skills Council and an Executive Council Member of the English Secondary Students Association. Rajay currently continues to serve as a College Governor at City College, Coventry and as a Trustee of the Changemakers Foundation.

In 2006 Rajay was commissioned by NESTA as co-author of 'Learner Voice' which was met with high acclaim from the education sector. In 2007 he was the United Kingdom's youth delegate at the Commonwealth Heads of Government Meeting in Kampala, Uganda. Rajay is an ambassador of Make Your Mark, and the city of Coventry.
Apart from the usual array of acronyms and name-dropping, we are struck by the upper age range of these people. Of course, it is possible that these people can be sympathetic to the needs of young people but would you choose them to represent the voices of students? No. Do any of them have a background in Education Studies research? No. Do they on the whole come from business management backgrounds? Yes. Does this mean that they will be expected to be more sympathetic to financial accounts and unit costs than people? Yes. Should people without any recent experience of student life make decisions on this very issue? No. Are they anything more than Government patsies that'll do what they're told for future posts? No. Shouldn't the Government stop wasting taxpayer money by scrapping the review system and finally take full responsibility for their policy decisions? Er, yes.
First-past-the-post, minority-rule, 'representative' democracy at its sleazy worst.